When it comes to planning a wedding, there are many details that need to be taken into consideration. You want your client's day to go smoothly, and you don't want anything unexpected happening. 
Your client's Wedding Day Weather is a huge factor when planning a wedding, especially if it's outdoors. Luckily, Ironicreports.com specialize in helping with this type of thing: Wedding Meteorologists! 
The Ironicreports.com Wedding Meteorologists are experts can help you plan your big day by providing information on the weather conditions.
Providing tips on how best to prepare for bad weather conditions, so instead of pulling out your phone and looking at five different weather apps, just text a wedding meteorologist and then move forward with the most reliable information available.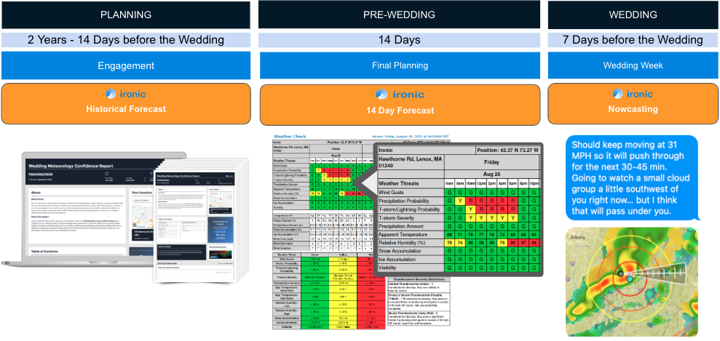 What is Historical Weather Data?
Historical weather data can be used as an accurate predictor of what to expect. Since you are looking at actual  weather seen over the last 30 years in the 10 miles surrounding your clients wedding venue, it's easy to predict the likelihood of similar events happening in the future.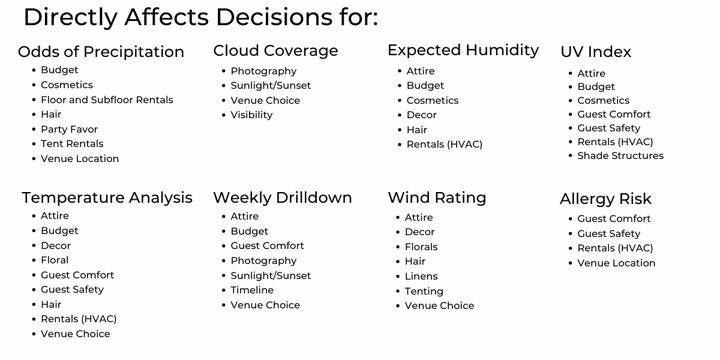 ---
What is Forecasting?
Forecasting can start up to 14 days before the wedding day. This is the furthest out that analog and digital systems for gauging the expected weather can accurately make models and give you an idea of the expected weather. That being said, we always want to note that the closer you get to the wedding day, the more accurate it will be. Even one day out, there is still a chance for the weather to change, but that is when we look at Nowcasting.
---
What is Nowcasting?
Nowcasting or Live Tracking is the ability to have a meteorologist who is on-call to answer all the questions you have. During the advance process, they will become familiar with your client's wedding timeline, and can help you navigate the expected and unexpected weather. A new resource to help keep everyone safe and keep your clients weddings on schedule.
This service allows you to be in contact with a meteorologist who will be able to answer any questions that may arise during the day of your clients wedding. They will also be available if they are needed during setup of the ceremony or reception site, giving them an opportunity to make suggestions on how best to protect guests from inclement weather conditions if need be. This service also includes reporting capabilities so that we can provide an accurate forecast for each wedding.
---